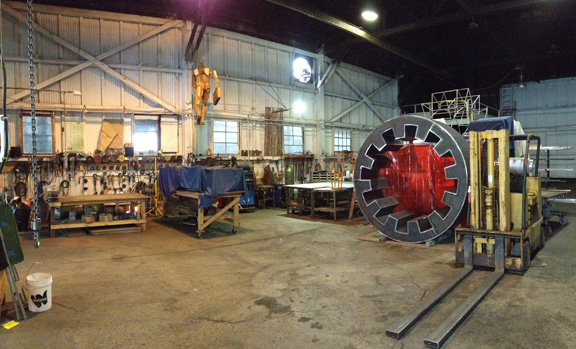 contact : info@petebeeman.com

I am an artist working mostly in large scale sculpture. Much of my work moves, and much is interactive. My business and studio (above) are based in Portland Oregon, though I spend extended periods in New York City. I am married to Page Fortna and we have two excellent daughters, Rosie, 11, and Linden, 9.

Linden & Rosie Linden, Rosie, Page, & Pete
I love working with good people. A Bangladeshi man once asked my wife to be his "Noble Man", meaning he wanted her to champion his cause. See my "Noble Men" here.
December 2017 - We installed the Venturian Trio in SE Portland, three sculptures of stainless steel rod and Oregon Basalt river boulders. Thanks to Tanner Smith, Lindsay Kranz and Andy Bixler for sticking with me to install that one.
March 2017 - Installed "Jelly" in Front of House, the gallery space at the front of Jessica Helgerson Interior Design's office. Super fun installation, really needs to be seen live, but heres a glimpse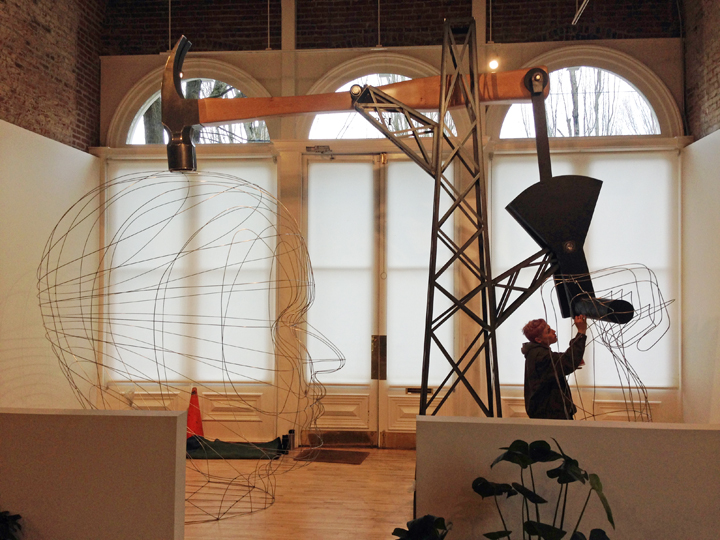 thanks to Jessica for inviting me to do the project! and to the inimitable, indomitable Jelly Crew for fabrication and installation! Tanner Smith, Andy Bixler, Lindsay Kranz, and Diana Nelson.
March 2017 - Installed my biggest project ever, this for the courtyard of Tebeau Hall at OSU in Corvallis Oregon. Fantastic project!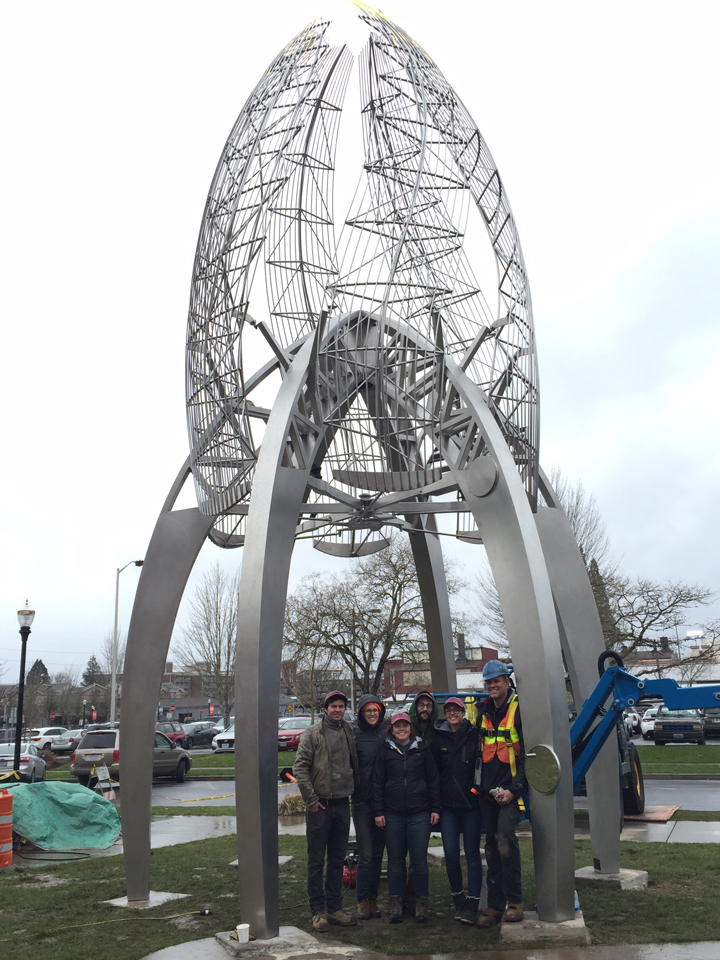 Huge thanks to my killer crew! Tanner Smith, Andy Bixler, Lindsay Kranz, Diana Nelson, and Charli Beck, who made it so well, and made it so fun.
November 2016 - I won grand prize, a $10,000 cash grant, in a public art competition put on by Kris Wines and the Americans for the Arts. It was an honor just to be listed in the competition as one of AFTA's top 100 public art projects in the US in 2015. Thanks to incessant internet voting across the country by loyal fans, I won the big prize for the Binghapmton Exploration Stations in Memphis TN.
May 2016 - Just installed a fun little project for Hearst Elementary School in Washington, DC, a sort of permanent scavenger hunt in bronze and stainless steel. Very popular among the 1st grade set.
February 2016 - Installed a small project for The Union, a new mixed use building by the convention center in Portland, OR. A series drawings of gears in stainless steel.
October 2015 - Just installed a series of 3 sculptures in the Binghampton neighborhood of Memphis TN. Really fun install, great neighborhood, with lots of folks helping out. Big thanks to Pat Brown of T.Clifton Art, UrbanArt, Paul West and the crew at West Memorials and Baltz Concrete there in Memphis. Big help from Tanner Smith building the projects over the summer. As ever, Jim Beekman helped me get it in the box, as did Tanner and his buddy Derek Weston. Local press in the Commercial Appeal, the Memphis Business Journal, and the Memphis Flyer.
October 2015 - FInally installed my fourth project in Taiwan, in the southern city of Tainan. It is a 20' diameter star with 20 points. Thanks to Julia Zell, Tanner Smith, David Levine, and Jack Schrott for their help on this project. See more here.
June 2015 - I won a new commission for great project in front of Tebeau Hall at OSU in Corvallis Oregon. Hopefully I will fabricate this project summer 2016 and install that fall. See clunky CAD video of the project here.
March 2015 - I proposed a project in Brookpark Ohio, adjacent to Cleveland, a mad series of gears, pulleys and moving parts, see the proposal here.
August 2014 - In an unusual deal, my agent in Taiwan, Dada, has fabricated a sculpture I designed, and installed it at the Taiwan Physical Education College (which is now going by a different name, but, uh, still seems to locate in the googles....) in Taipei. See more here.
April 2014 - Artist Ryan Everson, welder and engineer Cam Visconty, recovered smoke jumper Jim Beekman, and I spent summer 2013 building a series of four gear/wheel sculptures for a City of Raleigh commission in North Carolina. The 'Gears' are in stainless, weathering steel, and concrete. One is an open trellis frame of heavy stainless rod with a vine planted to grow and fill it in. I installed the gears in April 2014.
July 2013- I installed the interactive sculpture "Breathing Post" at the Salem Convention Center in July. It joins an excellent collection of sculpture by Oregon artists in front of the Center in Salem Oregon.
June 2013 - We installed two projects in Taipei, Taiwan. One called 'Runner', in a sports park, another, the 'Da'an Flower', on a new subway line at Da'an Forest Park station. I am working through DADA IDEA of Taipei on these projects. Extraordinary fabricator Todd Littlehales built the 'Daan Flower' project for the new subway line, and he did an outstanding job. 'Runner', in the Xinzhuang Sports Park in New Taipei City was built in my Portland shop (photo above) where Ryan, Cam, and machinist Tom Weisner helped me put it together. Jim Beekman and Shannon Cramer also helped out. An awesome team.
For some old press, click here
updated:01/16/2018